As we all are aware these days restaurants have become not just a regular place to eat, it has evolved to whole new level, where people go to have a great time with their peers. It looks like restaurants are more than just a place to eat
So it is the responsibility of the restaurant management to keep their customers entertained and deliver them with excellent services beyond their expectation. Let's see how a tablet ordering system can be a smart investment in restaurant management.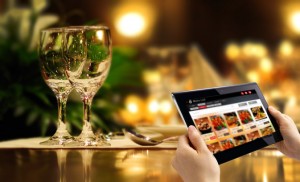 Restaurant will become a fun spot
The tablet ordering system could be a great addition in turning the restaurant into a complete fun spot, where foodies explore the restaurant menu, play games, and even have their favorite music played.
The tablet ordering reduces the waiting time, as the customers don't have to wait for the waiter to come up and take the orders. And the waiting time between ordering and food arrival is reformed into fun as the tablet has the facility to entertain the customers.
Can know all about a dish
According to foodies this is like their dream come to true, they are allowed to know everything that they ever wanted to know about a dish before ordering it.
Can let the chef's know what they want more, what they want less
First time ever in the history of restaurants the customers can interact with chefs directly from their tables by letting them know what they want.
The customers can see which dish is ordered more, or which is the dish of the day and they can even rate and review the dish after eating.
Provides a class experience
Giving the customers a feel that everything they need will reach them in a single touch or tap is actually an out of the box class experience.
A system to Track and record orders
What restaurant management gets more than their customers being happy is that they get an efficient system to track their orders, and there will be absolutely no old fashioned paper and pen concept, and also no printing cost.
Restaurants as they have a versatile system which helps the management and at the same time entertains customer can make whole restaurant management a walk in a park!
Conclusion
With all these awesome features tablet ordering system will reinvent the whole idea of restaurant management and will undoubtedly set a different range of food ordering standard.