Social media's emerging popularity is increases higher. And it becomes a part of our day to day life. Millions of people are active on at least one social networking site and many check in on their social profiles more than once a day. Obviously, it's where marketers need to be but simply being there isn't enough. With social media, you get out of it what you put into it. If your page is inactive, obviously you can't expect any results. The key is to update a social page frequently and engage in a conversation with fans and followers. Here's why an active social media presence is so important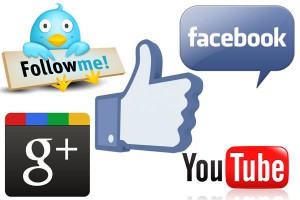 It is much popular than before– Nowadays more than millions of people using social media. According to a new study more than 1000 new people start using social medias everyday.
It's Still Growing- Every day new people are join in every social media's. Blog reading has grown by over 66% in the last year. In other words, social media is still growing, and it will continue to do so for the foreseeable future.
When One Social Network Lags, Another Leads- Whenever a social network starts to decline in popularity (see MySpace, Orkut etc) detractors are quick to say that social media really is a fad. What they fail to realize is that the demise of one social network doesn't spell the demise of social media. While MySpace was waning in popularity, sites like Twitter were exploding onto the scene. So, don't be fooled by the downturn of a single social network. Others are stronger than ever before.
It's Fast- In this increasingly digital society, speed is very important. We want the latest information, and we want it now. That's another reason social media is so popular. Bloggers routinely break the latest stories, and the instant interactivity makes social media a hit.
Cost Effective for Companies- With the economy continuing to spiral out of control, recession times.. Companies are looking for new, cost-efficient ways to communicate with their target audience and clients. Nowadays company persons, client meetings etc are very usual through social medias. Social media is fast becoming a priority for many of them. It's one of the cheapest, fastest, and most effective ways to tap into the consumer pulse
 It is a matter of Trust- Social media. Today, social media is one of the top sources of news and important updates. People are starting to gain trust in it, and as a result, it's still growing.
It's Passionate- People are passionate about social media more than reading a newspaper, taking a cup of tea etc. Same way, If you are are passionately write your blog, it will wring out of the hearts of your readers. Your Facebook status or tweets must be borne out of passion. Love them or hate them, social media users are as passionate as they come. Just hang out on Yahoo News, Digg, YouTube videos for a few minutes reading comments if you don't believe me.
It's completely Free– Everyone loves anything that's free.
Social Media is an all-rounder – There are variety of social media sites. There are social networks for virtually every niche imaginable. Whether you're looking to connect with your partners, playing video games, finding new applications, communicating with your clients, or you want to introduce your business products… there are social networks out there for you. This diversity means that everyone has a place in the social media circle.
The Internet is more Social- At the end of the day, this is the biggest reason you can't ignore social media in 2012. The Internet is an inherently social medium. That won't change. People will always want to engage with one another online, and social media will be there in one form or another to accommodate this need.
There are still many companies which are completely unaware about importance of Social Medias. That is why we selected this topic as our first blog post. Engaging in Social Medias is one of the first and foremost things to market your product or organization. Using Social Media sites you can create relationships and engaging others in your digital self.
Hopefully I have helped you come to realize the potential of social media and how it will assist small business owners and entrepreneurs. If you didn't start your social media activities yet, don't wait for anyone.  Start from today itself.  All the best..
Tags:
all rounder
,
Importance of Social Media
,
It is time to Active in Social Media
,
Social Media
,
Social Media all rounder
,
Social Media Optimization
,
why social media is important
,
Why Social Media is Important for Brands
,
Why Social Media is Important for Leaders
,
Why Social Media Is Important For Small Businesses
,
Why Social Media Marketing Is Important To Your Business
,
Why Social Networking is Important in Today's Society