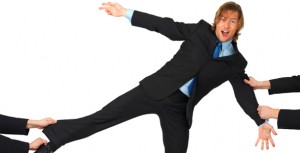 The war for talent is a business reality in today's competitive knowledge-based world, the caliber of a company's Talent increasingly determines success in the marketplace. At the same time, attracting and retaining great talent is becoming more difficult, as demand for highly skilled people outstrips supply. Better talent is what will separate the winning companies from the rest.
"War for Talent" not only highlights the increasing shortage of experienced talent, it affirms that companies with a talent mindset will continue to find and retain the top employees while significantly increasing company value.
Winning the war for talent is not about who pays highest salaries, it is a team effort of internal employees and external partners achieving the talent strategy.
Causes of a War for Talent
A war for talent is a relatively recent phenomenon because in the past, finding and applying for jobs was a slow paper- and mail-driven process. But now that almost anyone can be found on the Internet and interested people can find and apply for dozens of jobs within an hour, fighting over talent has become common. These "war conditions" occur when there is continuous rapid change in the marketplace due to intense competition. And as a result, employee skills need to be updated continually. In this situation, the shortage is not the number of people available (there may be many) but the number who have the required advanced skill sets. So, a war for talent is a skills shortage not a people shortage
What Companies should do
Now is the appropriate time to begin preparing for this next war for talent. In order to be prepared, you will definitely need to revise your talent management strategy. The battle will require sophisticated recruiting, powerful on boarding, superior retention, predictive metrics, exciting training, and a leadership development program that can replace lost leaders rapidly. You will also need to develop a competitive analysis function to stay ahead of your competitors and a market research function in order to better understand the changing expectations of your target talent. You may even need new talent management leaders who are agile, who learn fast, and who know how to operate under "wartime conditions."  
The forces of the war for talent add up to a fundamental shift in the business environment, requiring companies to radically adjust the way they manage people. Companies that are leading the way execute against five talent management imperatives. They are:
1. Instill a talent mindset at all levels of the organization beginning with senior management-
A talent mindset is the deeply held belief that building a strong management talent pool is critical to achieving the aspirations of the company. Leaders with a talent mindset roll up their sleeves and make talent their job; they continuously create, champion, and drive new ways to bolster talent. They ensure that the link between business strategy and talent requirements is forged. They hold themselves and leaders at all levels of the organization accountable for the strength of the talent pool.
2. Create a winning Employee Value Proposition (EVP) that brings scarce talent
through the doors, and keeps them there –
Just as a company carefully shapes its value proposition to customers, it should also deliberately craft the value proposition to its people. The EVP answers the question, "Why would a talented person want to work here?" Although winning EVPs are designed to appeal to the needs of specific talent segments, they share the following elements:
Exciting work – quite simply, people want interesting, challenging jobs and they want to feel passionate about their work. A great job is demanding and stretching and full of requirements that the individual finds interesting and worthwhile.
Great company – managers want to work for companies that are well-managed, that have admirable corporate cultures and values, and great leaders. Two aspects of culture are critical: a strong emphasis on performance and an environment that is open and trusting.
Wealth and reward – people want to make money that is commensurate with the value they create and with their other options. This is about more than the tangible value of the money; people want to feel recognized and valued for their individual contributions.
Growth and development – managers want the company to help them develop their skills. This is particularly important today, when people realize that their only real security in the job market is the collection of skills they possess.
3. Recruit great talent continuously – Companies must always be on the prowl for top talent. They need to have a keen sense of who they are looking for, and do their looking in new ways and in new places. They must bring in talent at all levels of the organization, even at senior levels. Successful companies understand that in today's economy, recruiting must be approached more like marketing and sales than purchasing; the recruitee is the customer and the company must sell its jobs in an increasingly competitive marketplace. And these companies measure their recruiting success with the same rigor that they apply to growth targets or market share.
4. Grow great leaders – Most companies leave a tremendous amount of human potential unrealized because their people are inadequately developed. Talented people crave the opportunity to grow, and without it they'll leave. Growing great leaders means deliberately giving them job challenges that push the bounds of what they thought themselves capable of. At the same time, it means providing the life preservers for succeeding at "stretch" opportunities. It means giving people the candid feedback they need to grow, without the sweaty palms that often characterize these infrequent exchanges.
5. Differentiate and affirm – Companies too often give in to the temptation to treat all their people the same. The leading companies conduct clear-eyed assessments of their talent; they differentiate in how they invest in their top performers and low performers. They shower top performers with job opportunities that excite and challenge them, and pay them for the value they create. Furthermore, they recognize that poor performers are not only failing in their own jobs, but are also bringing down everyone around them. These companies realize that moving on under-performers, whether to a different position or out of the company, is both a difficult task and an obligation of leaders. At the same time, they do not overlook the development of the large number of solid performers throughout the organization who are neither superstars nor blockers. They raise the performance and job satisfaction of these people to a higher level through development and affirmation, improving the odds that these workers feel vital to the future of the business.
Having great managerial talent has always been important, but now it is critical. A few companies are realizing this and are revolutionizing their approach to talent management. Most aren't yet out of the starting blocks. Better Execution on Talent Imperatives Is a Major Driver of Value Creation.